There are so many portable Bluetooth speakers on the market today. Here's one to consider if you want portability with decent sound reproduction that will connect to your devices wirelessly. Let's take a look at the Bluetune Divoom. Let's face it, speakers on tablets, laptops, phones and MP3 players have pretty miserable sound reproduction. So, this little beauty could add real quality to your life.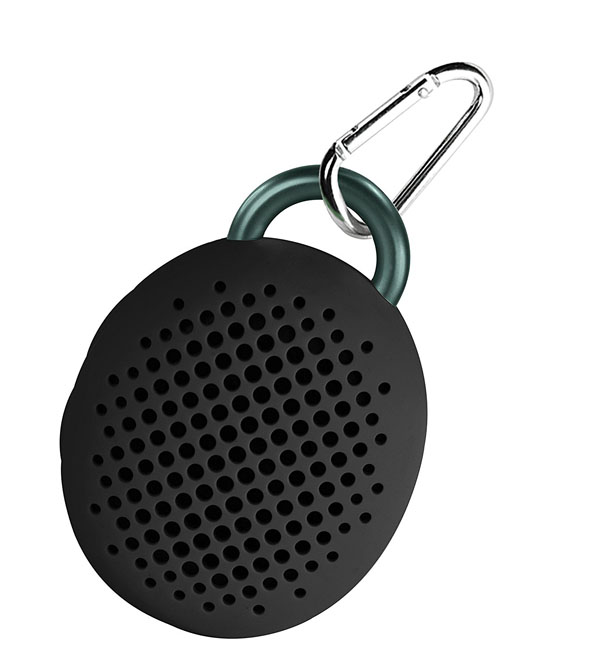 Here are the specs:
Output power: 3W
Total peak power: 6W
Dimensions: 68L * 45W * 92Hmm
Weight: 107g
Driver Size: 50 mm micro driver
Signal to noise ratio: 75dB
Frequency response: 60-20000HZ
Charging Voltage: 5V
Bluetooth compliant: V3.0
Bluetooth profile support: A2DP Stereo
Battery Capacity: 400 mAh
Battery charge time: Minimum 2 hours
Playback time: 6 hours
I found that it connected to any Bluetooth equipped output device without a hitch. It uses Bluetooth 3.0, which is the latest technology. You only have to go through the handshaking ritual once. From then on, it automatically connects when Bluetooth is turned on in both devices.
With a rather small footprint, it won't take up a lot of room in your pocket, bag, pack or purse. Conveniently, it has a ring on the top for a carabiner (which comes with it) to connect to your bag, belt or hang on a hook. It measures 3 x 2.5 x 1.5 inches.
The built in rechargeable battery offers about 6 hours of playback time. On one side is a power button and another control button. You control the volume and playback from your output device. There is a micro USB charging cable included in the box. It plugs into a port covered by a flap at the bottom of the speaker.
A proprietary passive bass radiator cranks out a booming bass, and a crystal clear treble clef. I found the sound to be of amazing quality for such a small speaker. I enjoy using it in my office and out in the garden. It really fills up a room with sound as well as the great outdoors. It's fun to use for calling birds when I'm bird watching too.
Here's another bonus; it is a speakerphone with a built in microphone, so it's great for hands free operation as well. When a call comes in, if you're connected to a phone, the music stops, and the phone call takes over. When the call is complete, the musical starts playing again automatically. So, it's great for talking on the phone while driving.
The rubberized exterior gives protection from accidental drops and falls. It feels like a little hand grenade in your hand. One side is flat so it stays put when set down.

It comes in an array of colors that should please almost anyone's taste: blue and silver, pink and red, yellow and blue, red and black, white and purple, and black and green. The price is more than reasonable for a sound blaster of this quality. The suggested retail price is $69.99, but you can get it for just $29.99 by clicking the link below.
It pleases me to be able to give this mighty, little sound pump a two thumbs up rating. I think that you will like it as well. I have to say I was surprised not to find a 3.5 mm connector.