The 20S is a state-of-the-art motorbike and powersports Bluetooth communication system. The unit provides a sleek and aerodynamic design that offers a versatile jog dial, maximising ease of use for riders. The 20S features several industry firsts for the motorcycle Bluetooth communication headset market. Bluetooth 4.0 technology with dual Bluetooth communication modules to create one of the most advanced Bluetooth headsets.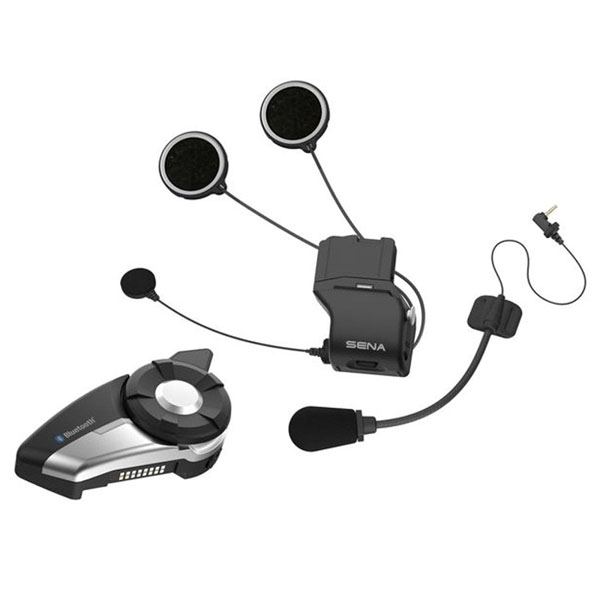 The new Bluetooth technology increases the performance and reliability of the headset whilst also allowing for increased high-definition audio quality. The advanced Audio Multitasking allows for a seamless blend of incoming and outgoing audio to create a mixed audio experience versus the traditional interruption based audio technology of other Bluetooth devices. With the 20S, users can take call (hands-free) with their Bluetooth mobile phones, listen to stereo music or voice instructions of GPS navigation via Bluetooth (wireless), or have intercom conversations in full duplex with a passenger or other riders.
This is an amazing bit of kit, very loud, very clear, even the radio reception is generally excellent – (need to use the smartphone app for radio). The app is also a superb feature. One small issue is sometimes the Sena doesn't always understand voice commands but that could be down to wind, bike, traffic or me just not speaking clearly enough. The battery is amazing and really now I couldn't imagine being without it. I use this with my AGV grid helmet and the speakers are very slim but you still need to expect that you will lose a little comfort unless you have specific cut outs for speakers – I've used the velcro provided to stick behind my helmet interior and they're still very loud and clear up to about 80mph and I have a very loud V-twin.

Very reliable headset, intercomm function works very well (though the range is not very good when there's no direct line of sight). It receives regular firmware updates (2 since I bought it) and has a decent mobile app to control it – which is necessary, because the user interface for some of the operations is not intuitive at all.